Releases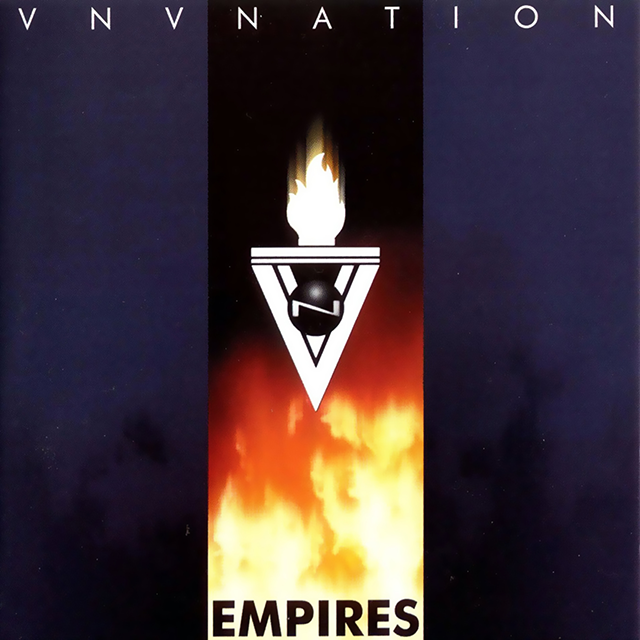 Empires
Format

CD Album

Cat.No.

ANA-BCD-3

Released

06 Nov 99
FIRSTLIGHT

KINGDOM

RUBICON

SAVIOUR

FRAGMENTS

DISTANT (RUBICON II)

STANDING

LEGION

DARKANGEL

ARCLIGHT
Recorded at Polaris Studios, Hoxton, London SEPTEMBER 1999
WRITTEN, PRODUCED AND PERFORMED BY RONAN HARRIS
ENGINEERED BY PAUL BARTON
EQUIPMENT USED : ENSONIQ ASR-10, ARP 2600, SCI PRO ONE, OBERHEIM OB-1, ACCESS VIRUS, EMU PROTEUS 2000, ROLAND JV-10180, ROLAND MOC-1, KORG TRINITY RACK
ABOUT THE ALBUM
MAKING THIS ALBUM WAS AN UNFORGETTABLE EXPERIENCE, IN BOTH THE BEST AND WORST WAYS POSSIBLE.
AT THE TIME, MUSIC WAS STILL ONLY SOMETHING I DID IN MY SPARE TIME, ALONGSIDE A FULL TIME CAREER. WHEN I STARTED CREATING THE ALBUM, I PLAYED MELODIES AND SEQUENCES ON A COUPLE OF SYNTHS AT HOME, AS A BASIS FOR TRACKS. FOR THE MOST PART, I WROTE THE ALBUM IN MY HEAD, IMAGINING HOW INDIVIDUAL ELEMENTS WOULD FIT TOGETHER BUT, NOTHING WAS PREWRITTEN OR PROGRAMMED. I HAD A STRONG AND CLEAR IDEA FOR HOW IT SHOULD SOUND AND THOUGHT IT MADE SENSE TO BUILD IT IN THE STUDIO, "ON THE NIGHT" AS IT WERE. ZILLO MAGAZINE SENT AN INTERVIEWER TO LONDON, A FEW WEEKS BEFORE RECORDING BEGAN, TO DO A "STUDIO REPORT". HE ONLY GOT TO HEAR THOSE FEW SOLO MELODIES AND DESCRIPTIONS OF PLANS FOR TRACKS, AND WASN'T EXACTLY CONFIDENT, YOU COULD SAY. I'VE NEVER BEEN ABLE TO EXPLAIN OR SHOW PEOPLE WHAT I HEAR IN MY HEAD. TURNING WHAT I IMAGINE I CAN HEAR INTO A PIECE OF AUDIO, THAT'S THE TRICK.
THE WRITING / RECORDING WAS AN INTENSE PROCESS, AND THEN SOME. I WAS AT THE STUDIO MOST WEEKNIGHTS AFTER WORK, FROM 7PM UNTIL MIDNIGHT, AND THEN ALL WEEKEND. IT TOOK 2.5 WEEKS, START TO FINISH. THE FEELING WAS THERE AND I KNEW WHAT I WANTED TO MAKE. I RELIED ON PAUL, THE STUDIO ENGINEER, TO GET THINGS TO SOUND AS CLOSE TO WHAT I'D I IMAGINED. OUR RELATIONSHIP WAS GREAT AND I THINK THAT THIS WAS RESPONSIBLE FOR A LOT OF THE ENERGY THAT MADE THE ALBUM SOUND AS IT DID. SOME DIVINE INSPIRATION WAS DEFINITELY AT WORK AND A LOT OF "BACK TO THE WALL" CREATIVITY. MAKING THE ALBUM WAS A DEEPLY EMOTIONAL EXPERIENCE THAT FORCED ME TO DIG DEEP INSIDE. "EMPIRES" WAS WRITTEN AT A TIME IN MY LIFE WHEN EVENTS OF THE PREVIOUS YEARS HAD LEFT ME FEELING LOST AND LACKING DIRECTION. IT WAS AN ARTIFICIAL LIGHT TO GUIDE ME. WHEN I SAY TO SOMEONE THAT THIS ALBUM WAS MY SALVATION, I DON'T MEAN THAT LIGHTLY. THE TRACK ARCLIGHT GETS ITS SYMBOLIC TITLE FROM THE FIRST USE OF ELECTRICITY IN LIGHTHOUSES, WHERE CARBON ARC LIGHTING CREATED THE MOST INTENSELY BRIGHT ARTIFICIAL LIGHT YET SEEN.
ALL RECORDINGS HAVE DEADLINES TO MEET. THE EMPIRES TOUR START-DATE HAD ALREADY BEEN SET. PLAYING THE TRACKS LIVE, BEFORE THE ALBUM CAME OUT, WASN'T UNCOMMON AND WAS SOMETHING THAT I PREFERRED DOING IN THOSE DAYS. THE TRACK "SAVIOUR" ORIGINALLY HAD A VOCAL RECORDED FOR IT BUT THERE WASN'T ENOUGH TIME TO MIX IT. I DIDN'T MIND. IT SOUNDED GREAT AS IT WAS AND THE VOCAL VERSION WAS A BONUS THAT I COULD RELEASE LATER. THE LAST HOURS WERE SPENT RUNNING OFF DAT TAPES AND BURNING COPIES OF THE ALBUM TO CD, TO TAKE WITH ME. I WENT HOME, PACKED AND FLEW TO BREMEN ON THE MORNING OF THE FIRST SHOW. NOW THAT IS CUTTING IT CLOSE.
TECH TRIVIA :
A QUESTION I'VE BEEN ASKED A LOT IS WHICH SYNTH I USED FOR THE LONG INTRO TO FIRSTLIGHT AND ARCLIGHT. THAT WAS THE ARP 2600, WITH STRINGS PLAYED ON THE ROLAND MOC-1 AND EMU PROTEUS 2000. THE RHYTHMIC BUZZING IS THE HUM FROM THE 2600'S POWER SUPPLY, RECORDED AND AMPLIFIED. THE 2600 WAS ALSO USED FOR THE INTRO ARPEGGIO AND THROUGHOUT THE TRACK ON "STANDING". IT WAS HEAVILY USED ON THE ALBUM, ALONGSIDE THE OB-1 BECAUSE OF ITS BANDPASS AND NOTCH FILTER SOUNDS. THE PRO ONE HANDLED A LOT OF BASS PARTS AND COUNTER MELODIES. STRANGE TO THINK THAT, DESPITE HOW DIFFERENT THEY SOUND, FROM ALBUM TO ALBUM, THE MAIN EQUIPMENT WAS THE SAME USED TO CREATE THE MUSIC FOR THE SPAN OF THE FIRST 3 ALBUMS. I DIDN'T MULTITRACK IN THOSE DAYS AND MODULES LIKE THE VIRUS, PROTEUS 2000 AND MOC-1 WERE THERE FOR FILLER SOUNDS.