Releases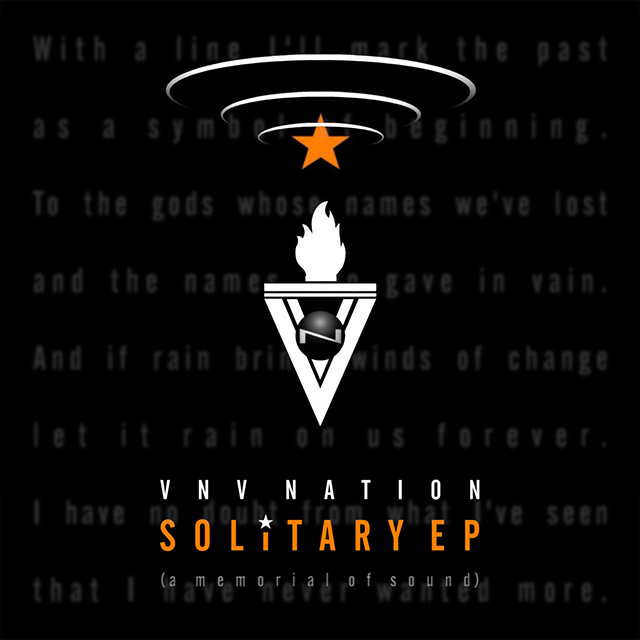 The Solitary EP
Format

CD EP

Cat.No.

ANA-BCD-2A

Released

06 Sep 98
PROLOGUE

SOLITARY (SIGNALS VERSION)

SOLITARY (DEATHSTAR DISCO BY COVENANT)

FORSAKEN (VOCAL VERSION)

FREUDE (SCHLACHTFELD VERSION BY :WUMPSCUT:)

FALLOUT

SOLITARY (SIGNALS EDIT)

SOLITUDE
RECORDED AT MOTHER DIGITAL, LONDON, SEPTEMBER 1998.
ALL SONGS WRITTEN AND PERFORMED BY RONAN HARRIS
ENGINEERED BY JUSTIN MOREY
EQUIPMENT USED : ENSONIQ ASR-10 AND EPS-16+R, ARP 2600, SCI PRO-ONE, OBERHEIM OB-1, ROLAND MOC-1
ABOUT THE ALBUM
AFTER THE RELEASE OF THE ALBUM "PRAISE THE FALLEN", AND THE SUCCESS OF THE CLUB VERSIONS OF "HONOUR", THE FOLLOW-UP RELEASE WAS THE SOLITARY EP. AS WELL AS INCLUDING REMIXES OF THE TITLE TRACK BY VNV NATION, covenant and wumpscut, IT FEATURED THE FIRST APPEARANCE OF THE VOCAL VERSION OF THE SONG "FORSAKEN" WHICH HAD ONLY EVER BEEN PERFORMED WITH VOCALS AT LIVE SHOWS.
TRIVIA : WUMPSCUT SENT AN INSTRUMENTAL VERSION OF THE TRACK "JOY" AND ASKED THAT VNV ADD THEIR OWN VOCALS TO COMPLETE THE REMIX. THE LYRICS WERE TRANSLATED BY KATHRIN TRIEBEL, WHO ALSO PROVIDED SPOKEN VOCALS IN THE INTRO. THE MAIN VOCALIST ON THE TRACK IS RONAN. "FREUDE" MEANS "JOY" IN GERMAN.