Releases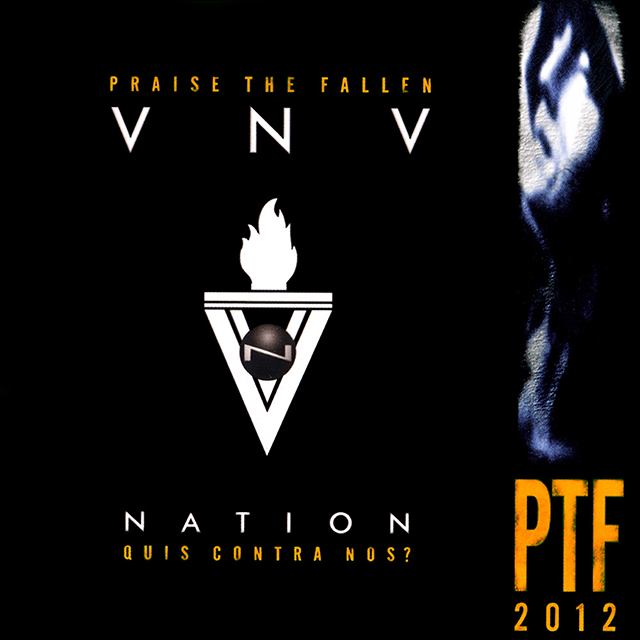 Praise the Fallen
Format

CD

Cat.No.

ANA-BCD-2

Released

02 Jun 98
RECORDED AT MOTHER DIGITAL STUDIOS, LONDON, DURING SEPTEMBER 1997. ENGINEERED BY JUSTIN MOREY WITH ADDITIONAL ENGINEERING BY PAUL BARTON.
ALL SONGS WRITTEN AND PERFORMED BY RONAN HARRIS
EQUIPMENT USED : ENSONIQ ASR-10 / EPS-16+R, ARP 2600, SCI PRO ONE, OBERHEIM OB-1, ROLAND MOC-1
ABOUT THE ALBUM
"THE ALBUM WAS WRITTEN BETWEEN 1995 AND 1997. IT WAS RECORDED PURELY AS A PERSONAL PROJECT WITH NO OTHER PLANS INTENDED FOR IT. SOME GOOD FRIENDS WHO RECEIVED COPIES ON CASSETTE WERE INSISTENT THAT THE ALBUM SHOULD BE RELEASED AND PERSUADED ME TO CHANGE MY MIND AND FIND A LABEL FOR IT".
VNV NATION SIGNED WITH GERMAN LABEL OFF-BEAT AND TOURED GERMANY IN SPRING 1998 SUPPORTING FELLOW OFF-BEAT ARTISTS "COVENANT" ON THEIR EUROPA TOUR. TWO ALTERNATE VERSIONS OF THE TRACK "HONOUR" WERE RELEASED ON COMPILATIONS TO PROMOTE THE ALBUM.
THE ALBUM USES LAYERS OF METAPHOR, SYMBOLISM AND ALLEGORY TO EXPRESS ITS THEME OF THE BATTLE FOR CONTROL OF THE SOUL AND THE MEANING OF FREE WILL. THE SOUND DRAWS ON A WIDE RANGE OF MUSICAL INFLUENCES FOR A DARKER ANTHEMIC ELECTRONIC SOUND. INSPIRATION FOR THE ORCHESTRAL ELEMENTS ON THE ALBUM WERE DRAWN FROM CLASSICAL COMPOSERS LIKE DVORAK AND ELGAR.
THE TEXT FOR THE TRACK "CHOSEN" IS AN EXCERPT FROM THE SHORT STORY "BOULE DE SUIF" BY GUY DE MAUPASSANT.
THE CLOSING TRACK "S", DOESN'T APPEAR IN THE TRACKLIST. IT WAS ORIGINALLY RECORDED WITH VOCALS BUT THE LABEL INSISTED IT BE RELEASED AS AN INSTRUMENTAL.
THE COVER ART FEATURES A PHOTO BY YARO OF THE MONUMENT IN WARSAW DEDICATED TO POLISH WW2 RESISTANCE FIGHTERS