News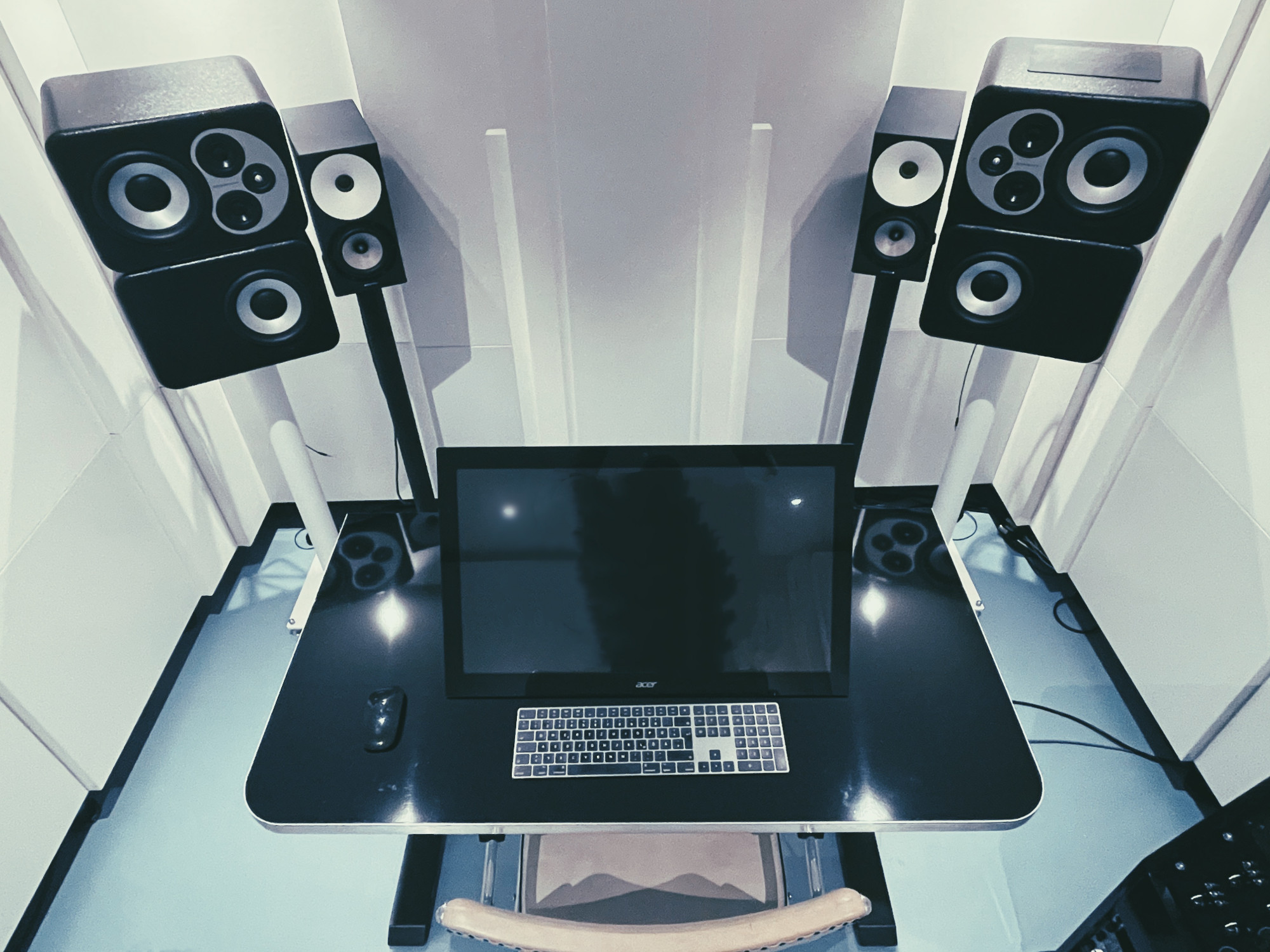 NEW STUDIO BUILD
One thing about smaller studios is that you need space in order to be flexible for changing situations. One day, it's just a desk, speakers, a mini keyboard... you know - the image used in every ad for a home musician. Another problem is that you have to live with choices made in the past. I'm not an acoustic engineer and some bad advice about studio dimensions in the past resulted in standing waves and flutter. Compensating for it was lot of work and I needed to remedy it.
I got an offer from a friend for a large space in a brand-new building. It was perfectly timed because the future of the building where I'd been was in doubt and the contract was up for renewal. There was enough space in the new location for multiple studios, a workshop, storage for studio-equipment, a place to keep the live-gear between shows, a prime spot for the mandatory espresso machine and space to chill out between production sessions. No matter how well you plan, an unknown factor-X will always come into play.
Planning and packing started in 2019, with the main build scheduled to start in early 2020. Now, if you happened to have been on planet Earth in 2020/21, specifically Europe, you'll know how much lockdowns and restrictions slowed things down. The build slowed to a grinding halt. It was incredibly frustrating trying to schedule anything because each job needed company 1 to complete their work, company 2 to do their part and then company 1 to come back to finish. It took a long time but it got there in the end. My job was to design the layout, provide plans, coordinate who had to do what and when, make sure all the materials were on site when needed, fret a lot, shop for everything and take care of the interior design.
I made sure to support a lot of local businesses in this. The people who contributed their part of the build did an exceptional job. Every one. The carpenters, wood builders, electricians, painters and other tradesmen all brought admirable skill and expertise. I also have to thank the suppliers, who were all hurting in some way or other during lockdown, because they still made sure that the building materials made it to me.
STUDIO A

The main studio got a new floor-to-ceiling acoustic treatment, designed by my friend Michael, who's one of Germany's finest studio designers. We spent many hours in a cafe, discussing acoustic engineering concepts of the past and present, not to mention style ideas, over copious cups of coffee. We pored over old catalogues and photos of studio designs, produced by major broadcasting companies between the 30s and 50s. We incorporated many ideas, thanks to modern materials, and give it an early modernist design. Form and function. I also got a lot of advice from other studio folk, who do most of the work themselves and produce amazing results. Knowledgeable advice and a lot of research are invaluable.
You learn the good and bad sides of where you do your work in how things should or could be arranged. Studios are fluid workspaces. I couldn't find suitable studio furniture so I did what people did in the past - I designed my own. Carpenters did the rest. This was a lot easier than I'd expected, gave me the results I wanted, cost a hell of a lot less (and looked a hell of a lot better) than any off-the-shelf racks from music stores and studio supply houses that I looked at. Speakers and rack equipment went in, cabling was tidied away and I could finally sit and try it out.
I've a broad, eclectic music taste, so I test sound with lots of different styles; from acoustic to techno, ambient to orchestral, experimental to indie, and more. This next bit might be lost on many of you but, I played a recording of Ben Webster live at the Renaissance in 1960 to two friends in there. It's a beautiful 1960 stereo recording. I played it through the Barefoot and Amphion speakers. If you'd closed your eyes you'd have thought that you were at a small table in front of the stage, able to tell how far away each musician is, and able to hear every detail in Ben Webster's reed playing.
Herr B's acoustic design is incredible.
STUDIO B

The second studio (aka the "Tron Room") is for people to work in parallel on productions or mixing, recording additional vocals and live instruments, recording interviews and general videos, and also functions as a kickass disco roller rink.
I had the area for the space set out in my plans from the start, to be developed later. It was just the outer walls. My friend Nick from Monochrome Sound designs a lot of studios and came up with some nice dimensions for a smaller room with a voiceover-control-room sound (lightly ambient but definitely won't suck your brain out of your ears). He worked out the materials, created the plans for the room-in-room construction and the wood building company got to work. We went "effective and old school" with this. Nick has had a lot of experience building some great sounding rooms for big production teams, and can work with large and small spaces. I also wanted to see if it could be done by being really resourceful, using leftover building materials, and employing ideas that were cheap but effective, without spending tons of money or sacrificing quality. We weren't inventing the wheel here. I've seen people throw a ton of money at studio builds who got the same results as they would have with 10% of the cost, or sounded 10% better, at best, than something that cost half as much. It just needed to sound good, not have any standing waves or flutter, and sound balanced. This wasn't being built for the Fraunhofer Institute.
A simple wooden frame was built on top of the inside walls (twice as deep on the back walls) for sound absorbing materials, with a 10cm gap left for a cable run at the bottom (covered by removable skirting boards that were leftover from an old project). The frame was designed so that it could be covered in 60x60cm Ecophon panels, most of which were leftover from the Studio A build. We needed diffusors so, some sections have 2cm thick front-cover plates from retail diffusor modules (thanks to GIK for supplying the fronts). The interior dimensions weren't going to be a perfect multiple of "X times 60cm wide panels" so, the leftover space was used as a shaft / duct on either side in the wall frames (basically, it's the vertical gap that 's leftover between two segments of wall frames, enclosed by the side plates of the wall frames), covered in some unused laminated wood plates that are fixed with magnets (how do they work?). The ducts / shafts are a really useful bonus as they're used for vertical cabling and LED transformers on one side, and the hose for a soon-to-be-added air exchanger on the other. The ceiling is covered in 120 x 60cm absorbers, with a gap left on the sides for an aluminium LED lighting profile.
Which brings me to the LED lighting. This was the fun part, purely because I wanted to try out some lighting ideas, just to see what was possible. There was a method to my madness. After quite a few unsuccessful attempts looking for companies whose imagination stretched beyond everyday ceiling and wardrobe lighting, I found a company who, not only got what I was aiming for but could deliver what I needed. All the company's products are German made, and they've developed and patented some very interesting lighting products that I'm going to use in Studio A. The strips on the side walls look like black, matt, plastic panel-dividers. Or are they? *rubs chin* I could've gone crazy with DMX control or a system that shows a 1 pixel wide video segment all around the room for lighting effects but, no. Let's just stick with a cross between Modernism and Tron, ok? I wanted this to be a multipurpose room that can be used for video, media, mixing, production, friends in town who need to use a studio, or roller-disco aficionados looking for a place to rock it to Tavares.
So, did it work out? Does it sound good? This really is the only question you need to ask. Everything else is superfluous. If it sounds like pants then, your efforts were in vain, no matter how good it looks. These dimensions, the combo of materials, and all the parts of Nick's design, came together to work brilliantly. The sound is really balanced. No ringing from a finger snap or hand clap.
Next task - get some basic furniture and speakers in there.
Photos from the build can be found
here
30 Apr 22